As California figures out how to transition from distance learning to safely reopening schools, we must also figure out how to provide the extra support that kids need to recover, catch up academically, and thrive. Researchers are already seeing widespread mental health needs and estimate that a majority of CA public school students will need to catch up by a year or more. In this blog series, you will learn how the pandemic is affecting students from underserved communities, the impact of learning loss, and effective solutions to reverse learning loss. The actions we take now will have a major impact on our children's futures.
---
After schools in Los Angeles closed in spring, Akela Wroten saw his second grade daughter struggling. Since she wasn't able to read well, she couldn't do the independent work assigned. Parents like Akela have stepped up in many ways to become co-educators during this crisis and are on the front lines for an equitable education for their kids. This pandemic has revealed racial inequities that are deeply embedded in our school system and are now worsening.
Despite the efforts of parents and teachers, researchers project that Black and Latino students will experience 12–16 months of learning loss by the end of the school year because of school closures during COVID-19. That is on top of the fact that many students were already behind before the pandemic.[1][2]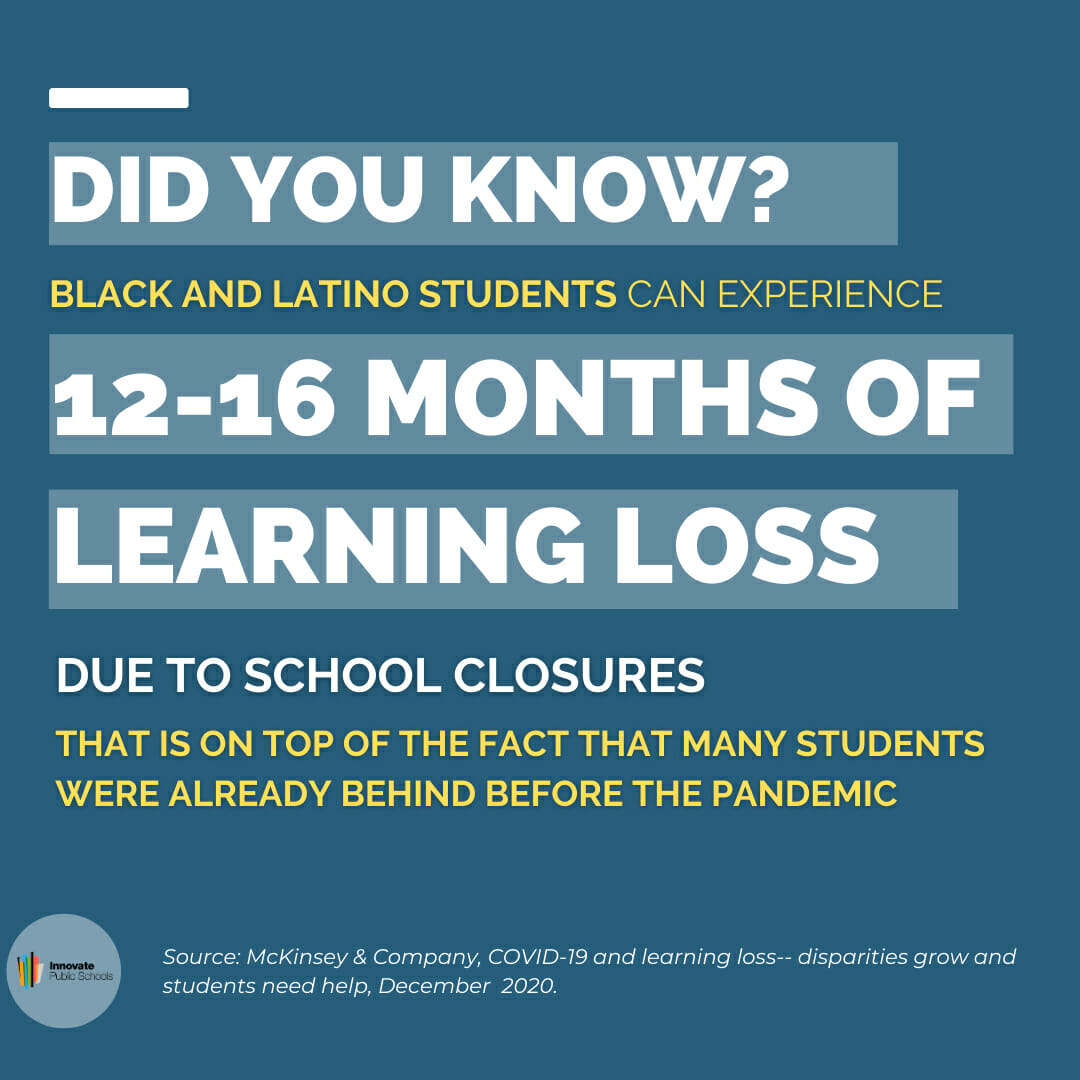 What is learning loss?
Learning loss happens when knowledge or skills are forgotten by students while they are not in school for extended periods of time. It is also the gap in knowledge or skills that students did not learn, but would have learned in a "normal" year. The shutdown of schools in spring 2020 also caused a major disruption to students' learning, daily routines and social-emotional well-being. While many teachers, school leaders, and parents have worked tirelessly to help kids keep learning, remote learning hasn't been equal to the education students would have normally received.
When learning is disrupted, kids have to re-learn what they learned before
When learning is disrupted, kids don't just miss out on new learning, they also have to re-learn some of what they had already covered. But not all students are impacted as much. For example, those with resources to spend the summer in high-quality enrichment programs and camps do not have as much catch-up to do in the fall as their peers.
Let's take Hannah, for example. Hannah was in second grade when schools closed in spring and was just beginning to learn how to read. She also did not have a computer and had to wait several weeks before receiving one from her school. For months, Hannah had very limited interaction with her teacher and classmates. She received no more than two hours of instruction each week, and some weeks only saw her teacher and classmates for an hour over video. She struggled with the assignments her teacher asked her to complete independently, because she was still learning how to read and did not have support from her teacher and peers.
Hannah lost out on a lot of learning during the pandemic. During a typical spring semester, she would have progressed along the white line displayed in the graph. But because of this disruption, she learned much less (see the red line in the graph). This caused her to experience learning loss (see the gap in learning in yellow on the graph).
---
Over the past year, we've heard hundreds of parents across California share how the pandemic and distance learning are affecting their children's present and potentially their future. Learn more about what parents are pushing legislators to prioritize here.
---
It's clear kids will need support to catch up
Even before the pandemic, students experienced learning loss whenever there was a disruption in learning. Teachers see this each year with students coming back from summer break having lost anywhere from 20% to 50% of their school year's gains in reading and math.[3] Academic progress slows during the summer for all children and even more so for low-income students, who don't have the same access to summer enrichment programs.[4]
Given that students' learning slows after just two months, researchers know learning loss during distance learning will be far greater, and that gaps between Black and Latino and White and Asian students will widen. Assessment data from fall 2020 already shows that learning loss has been greatest among low-income, Black, and Latino students. In the next post, we'll discuss why Black and Latino are falling behind.
Take Action Now
CA legislators and the Governor are making major decisions right now about the state budget for next school year. Innovate parent leaders from across the state are meeting with them and raising our voices to tell them we must invest more in to support children's mental health and academic recovery from COVID-19.
---
[1] McKinsey & Company, COVID-19 and learning loss—disparities grow and students need help, December 2020.
[2] Stanford University. "Estimates of Learning Loss in the 2019-2020 School Year." The Center for Research on Education Outcomes, October 2020.
[3] Kuhfeld, Megan. "Summer Learning Loss: What We Know and What We're Learning." NWEA, August 12, 2020.
[4] Augustine, Catherine H., and Heather L. Schwartz. "The COVID Slide: How to Help Students Recover Learning Losses." RAND Corporation, July 9, 2020.

---
Innovate Public Schools is a nonprofit community organization that builds the capacity of parents and educators working together to create excellent and equitable public schools.