As California figures out how to transition from distance learning to safely reopening schools, we must also figure out how to provide the extra support that kids need to recover, catch up academically, and thrive. Researchers are already seeing widespread mental health needs and estimate that a majority of CA public school students will need to catch up by a year or more. In this blog series, you will learn how the pandemic is affecting students from underserved communities, the impact of learning loss, and effective solutions to reverse learning loss. The actions we take now will have a major impact on our children's futures.
---
The transition to distance learning and learning loss has impacted all students. But, the experience of Black and Latino students has been dramatically different and in many cases, much worse. Many factors lead to learning loss. Some of the critical barriers that have led to Black and Latino students falling further behind are having less access to reliable internet, computers, and less time with their teachers and peers.
Many students were already behind.
Before the pandemic, our public school system was not working for most Black and Latino students, low-income students, English learners, and students with disabilities. Systemic racism embedded in our schools has long held students back. Few schools in California were closing opportunity gaps for Black and Latino students. For example, in 2019, only three in 10 African American students were on grade level in English and only four in 10 Latino students were on grade level in English.[1]
---
Over the past year, we've heard hundreds of parents across California share how the pandemic and distance learning are affecting their children's present and potentially their future. Learn more about what parents are pushing legislators to prioritize here.
---
School shutdowns have made existing inequities worse.
The COVID-19 pandemic has created the biggest education equity crisis of our lifetime. Researchers estimate that by the end of this school year, students of color may lose 12-16 months of learning. In comparison, White students may only lose five to nine months of learning.[2]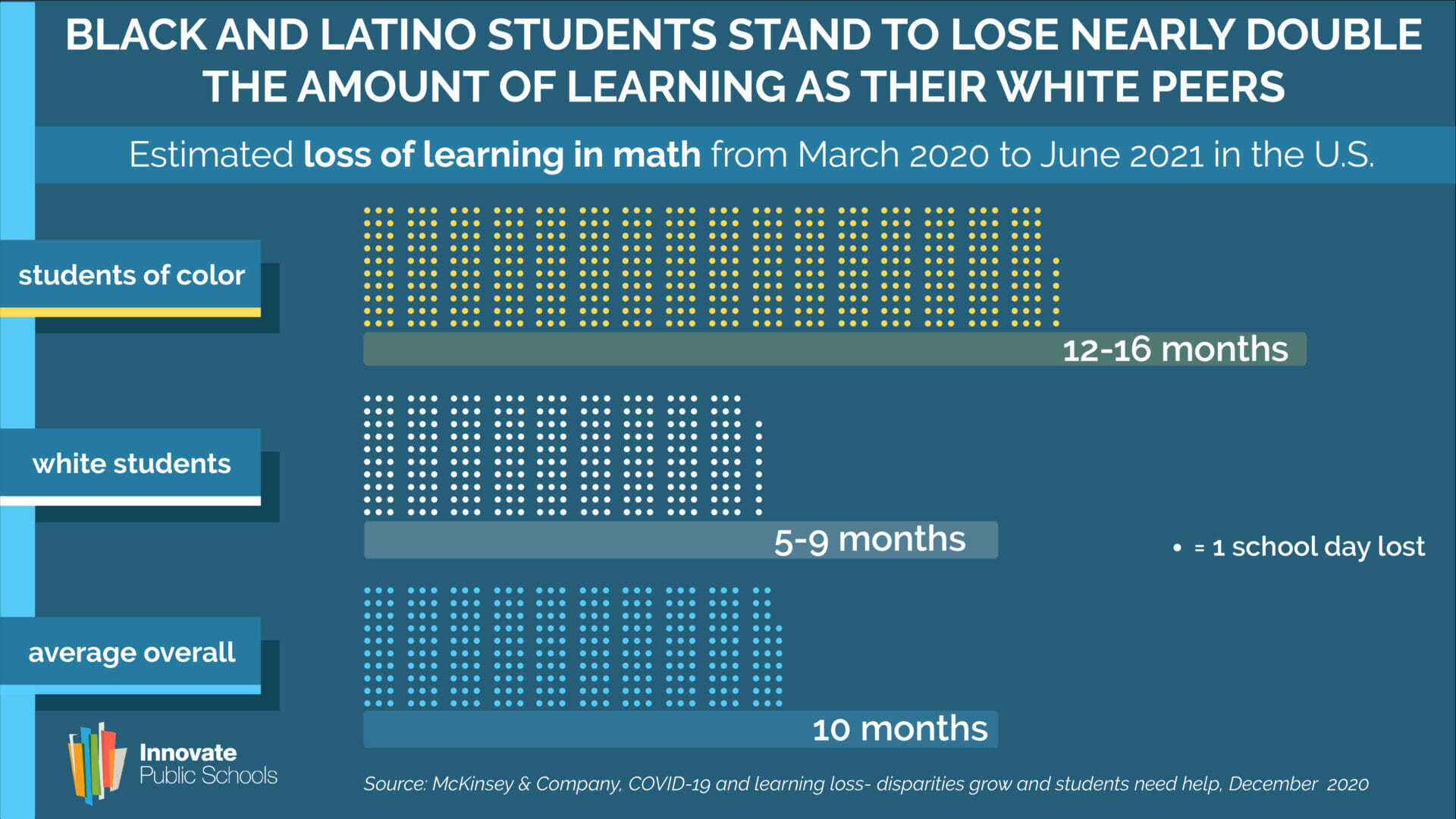 The inequities are severe – many national studies have confirmed that the impacts of learning loss have been worse for Black, Latino, low-income students, and English learners.[3][4][5] A recent study in California found that students in grades 4-7 have been most affected.[6]
More Black and Latino students do not have digital access
Black, Latino, and low-income students are falling further behind than their peers because of unequal access to reliable internet and computers, and less learning time with their teachers and peers. In California, one in four K-12 families lack access to reliable internet. Seventeen percent of students in California do not have a computer – leaving them completely disconnected. While all students are impacted by the digital divide, Black and Latino students are most impacted.[7]
Some districts moved fast to get families devices and internet. Yet, students are struggling to engage in learning because they lack access to reliable internet. Many families cannot afford internet and some live in communities that lack high-speed internet infrastructure. Schools have also provided them with unreliable hotspots or devices that easily break down.[8] Ten percent of all public school teachers are also caught in the digital divide.[9] When a teacher lacks access to internet or a computer, the impact on student learning becomes significantly worse.
Black and Latino students also received less instructional time with their teachers
Black and Latino students are twice as likely as White students to have had no live access to teachers during the school shutdowns.[10] Teachers are one of the most important factors in a child's education. Yet many school districts have drastically limited the time students have to learn from their teachers. For example, of the five largest districts in California, LAUSD provided their students with the least amount of live or real-time learning this Fall. Elementary students got less than 2 hours of live learning each day.[11] The large majority of students in LAUSD are low-income students of color.
When students lack access to a computer, reliable internet, and time with their teachers and peers, there can be serious long-term impacts. Research shows that students that lack access have lower GPAs than students with access. Lower GPAs lead to $1.4K – $2K lower annual income.[12]
Different Experiences, Different Impact
When schools shut down, Black and Latino students had a much worse distance learning experience than their peers from higher-income families. Let's take Guillermo and April for example. Guillermo and April were both 5th graders excited for middle school in spring 2020.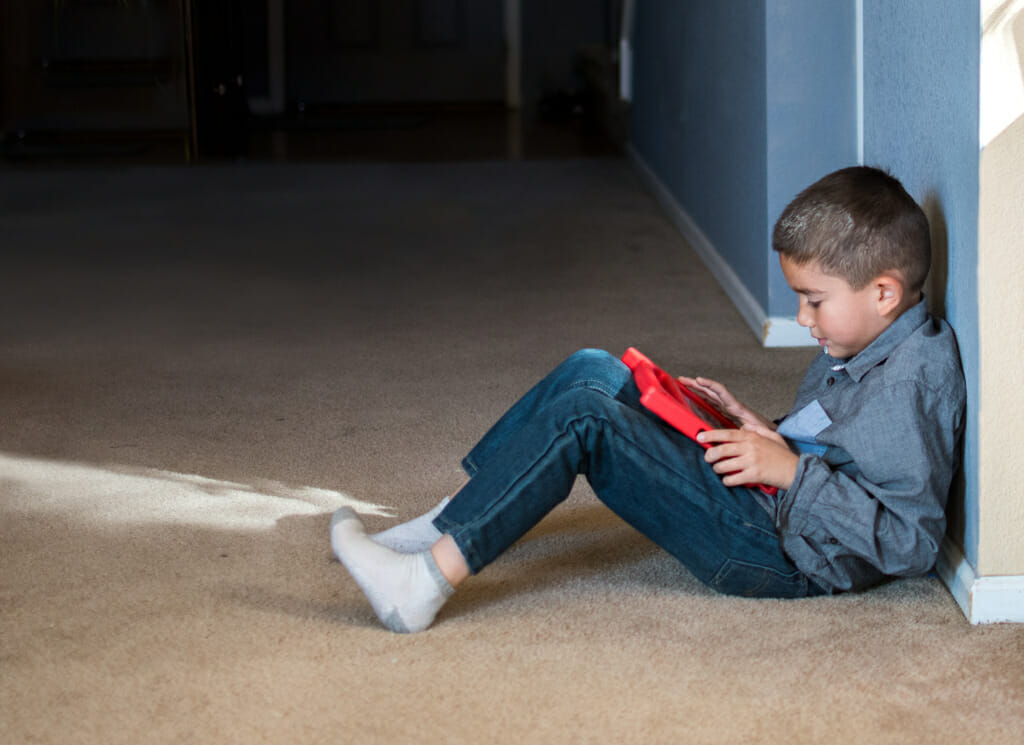 Guillermo is a student in district A and comes from a low-income family. He began distance learning without a computer, which further slowed his learning. Guillermo used his mother's phone to access his classes. But, he eventually gave up because of the poor connection and high data charges. Guillermo finally received a computer from his school halfway through the school year. He struggled to access online materials. The district-provided computer eventually started to breakdown and he did not have enough IT support from his school.
Guillermo's school provided just two hours of live learning each day. Guillermo has two siblings at home and they can only afford WiFi with a slow internet connection. The siblings all share the same room, which makes it hard to focus on the lessons. Guillermo could not turn on his camera to engage with his class because of the slow internet connection – so he has been practically invisible to his teachers. Guillermo's parents are back at work after getting laid off when the pandemic first hit, so he and his siblings are now often at home unsupervised.
It is a very different story with April. She attends school in district B and comes from a higher-income family. Her mother was able to help her access Google hangouts, agendas, and assignments on a computer for the first time. Each day, April had five hours of live learning time on Zoom, plus assignments she could complete on her own. She has spent nearly double the time as Guillermo with her teachers and peers. April and her brother have their own bedrooms, allowing them to have a quiet space to focus on distance learning. April was struggling in math, so her parents paid for a private tutor to work with her 1-on-1 twice a week.
April is very likely to be fine. But what about Guillermo? The academic and emotional toll on him has been extreme. What are his prospects now of getting into college?
Guillermo and April are not unique. They are living firsthand, the inequities in our educational system. During distance learning, many students lost access to the most critical resources. However, Black, Latino, and students from low-income families will be further behind because they had much less access to reliable internet and devices, and less time with their teacher and peers.
Take Action Now
CA legislators are making major decisions right now about the state budget for next school year. In response, Innovate parent leaders from across the state are raising their voices and meeting with decision-makers to tell them we must invest more into children's mental health and academic recovery from COVID-19.
---
[1] California Department of Education, California Assessment of Student Performance and Progress (CAASPP), 2018-19.
[2] McKinsey & Company, COVID-19 and learning loss—disparities grow and students need help, December 2020.
[3] Stanford CREDO, Estimates of learning loss in the 2019-2020 school year, October 2020.
[4] Curriculum Associates, National data quantifies impact of COVID learning loss; raises questions about at-home testing, October 2020.
[5] Amplify, COVID-19 means more students not learning to read, February 2021.
[6] Policy Analysis for California Education, COVID-19 and the educational equity crisis: Evidence on learning loss from the CORE data collaborative, January 25, 2021.
[7] Common Sense Media and Boston Consulting Group, Closing the K-12 digital divide in the age of distance learning, 2020.
[8] Richards, Erin, Elinor Aspegren, and Erin Mansfield. A year into the pandemic, thousands of students still can't get reliable WiFi for school. The digital divide remains worse than ever. USA Today. Gannett Satellite Information Network, February 4, 2021.
[9] Common Sense Media and Boston Consulting Group, 31-32.
[10] McKinsey & Company, COVID-19 and learning loss—disparities grow and students need help, December 2020.
[11] LAUSD-UTLA, 2020-21 Distance Learning Sideletter, August 2020.
[12] Common Sense Media and Boston Consulting Group, Looking back, looking forward: what it will take to permanently close the K-12 digital divide, 2020.

---
Innovate Public Schools is a nonprofit community organization that builds the capacity of parents and educators working together to create excellent and equitable public schools.