It's no secret that there needs to be a focus on African American student achievement in public education. Innovate Public Schools has taken the lead in organizing parents in Los Angeles County to grasp the reign of local education policy. With parents at the center of their work, Innovate Public Schools successfully led a community action that advocated for Black Students in Los Angeles Unified School District. Walking away with a pilot math intervention program, a collaboration with the local district South Superintendent and increased people power, African American parents are clear about their goal to increase Black Student Achievement in LAUSD. 
Community Organizer Jalisa Johnson began organizing with the Innovate Public Schools  Los Angeles team in December 2018 to understand the current state of African American students who attend Los Angeles Unified School District schools. Under the Innovate organizing model, Jalisa sought to work with parents throughout LAUSD to listen to their stories and teach them organizing principles. The goal of working with parents is to help them understand district policies and data to better advocate for their students. To do this, black parents needed to build power. Those became their primary focus: better understanding what is currently being done for black students and building their power to demand they -and their children- are seen.
During meetings, parents, community members and local clergy, actively engaged in dialogue and learning workshops to eventually draft a plan that would call for district leaders to increase African American student achievement. Led by parents, and facilitated by Johnson, the Citywide Black Student Achievement (CWBSA) Parent Leader Team (PLT), spent 315 hours and over 120 meetings within the past year, to learn from  district leaders, community organizations, local churches and organizations, parents and school staff. 
Through a series of community  meetings held throughout Los Angeles, Johnson heard stories from Black educators regarding the constant opportunities that districts overlooked to support Black students, parents and families. A common story amongst parents as well, who echoed similar sentiments of not feeling seen or heard by school officials, which in many cases, led them to remove students from schools to be either homeschooled or attend schools in a different district. The mission became clear for the members of the CWBSA PLT, they want to eliminate the achievement gap for the 50,000 African American Students in Los Angeles Unified School District who do not feel seen or heard. 
After learning the data released by Innovate Public Schools, which  identified that only 9 schools within LAUSD close the achievement gap for low-income African American students, the strategy sharpened. The PLT was very unsatisfied with these numbers. Out of 1,000 LAUSD schools, 370 schools serve a significant number of low-income African American students, on which only nine of them are considered a Top Public Schools for low-income African American students.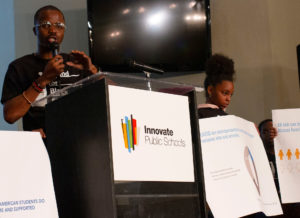 As the journey continued, the CWBSA PLT acknowledged the key district stakeholders who were essential policy makers within the local districts. After meeting with LAUSD Local District South Superintendent Mike Romero and Local District West Superintendent Dr. Cheryl Hildreth, who both oversee the local districts with the highest concentration of African American students, the PLT knew a partnership was key for them to reach their goal. A strategic partnership with local district superintendents will largely affect the trajectory of African American student success and get the PLT closer to closing the achievement gap for Black students.
In the meeting with Superintendent Romero, parents noticed that the rhetoric shared was one that consisted of ALL students, versus Black students. Parent leaders became weary of district policies that groups all students of color, which did not explicitly address the needs of African American students. What continued to become more clear, is that the district needed to be unapologetically focused on Black Student Achievement. The 8% of students in LAUSD, who represent over 50,000 students citywide.
The PLT formed an action team comprised of a smaller group of parent leaders who dedicated their time to host a community action to urge Mike Romero to publicly commit to creating programs and resources that were unapologetically focused on African American Student Achievement. Akela Wroten, Melissa Mack, Didi Watts, and Cedric Nelms led meetings to ask specific questions to learn why Black students were performing poorly in LAUSD. It was important to the team to acknowledge the years of oppression the LAUSD education system created for Black students.
It was on December 19, 2019, at the community action, held in Watts, California where parents scored a MAJOR WIN for African American Students in Los Angeles Unified School District. Local District South Superintendent professed and committed to be unapologetically focused on African American Student Achievement. Outside of the public commitment to create pilot programs in the achievement schools located within local district south, and collaborating with parents on an ongoing basis, Mike Romero admitted that the histori
c grouping of African American and Latino students overlooked the individual needs of both populations. 
Parents are energized to continue the fight for education equity for African American students. Superintendent Mike Romero's commitment to collaborate with parents on pilot programs and an unapologetic focus on Black Student Achievement is the first step to major change. Now that the Parent Leader Team has scored a strategic partnership with district leadership, they plan to push for more local funding by looking closer at the Local control Funding Formula and ensuring that African American Students are not grouped with other students of color. Parents recognize that without well-funded schools and programs, students will not get the true support they need.